Cleaning Tips for Food Display Cabinets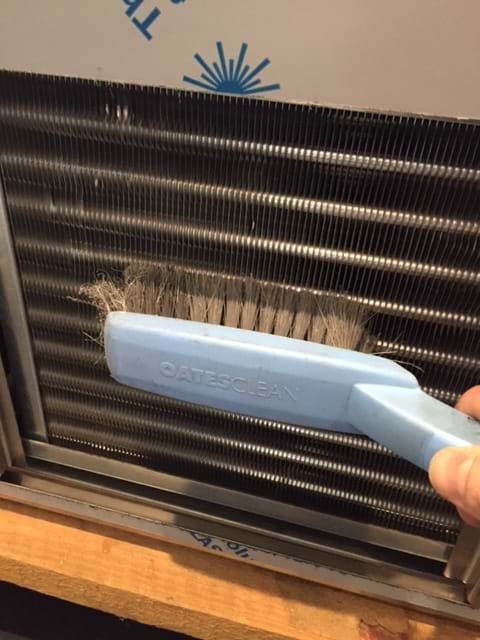 DAILY CLEANING
Always disconnect power before cleaning.

Exterior Cleaning – Use a mild or professional food grade stainless cleaner. Stainless should be cleaned daily using a
suitable proprietary stainless steel polish.
Glass Cleaning – All glass should be cleaned using methylatedspirits or a quality glass cleaner and a clean cloth. DO NOT clean glass with abrasive pads or cleaners, eg Scotchbrite pads or Jiff – this will damage the glass. Do not use hot water on glass as they may "shock" the glass and cause thermal breakage or shattering.
Door tracks must be cleaned regularly to ensure doors run correctly. Interior Cleaning – Brush crumbs to end of door tracks using a small paintbrush. At the end of cleaning, spray door tracks with food grade silicone to ensure doors glide easily.
Fan/Element Deck - The fan/element deck can be lifted up and rest on top of cooling coils to enable cleaning around the coils. Take care not to stretch fan leads or damage coil fins. Wipe or vacuum around element or coil. You can pour warm water into well to help remove crumbs.
DO NOT spray water inside cabinet Cooling Fins. If there is food stuck in the cooling fins, it is best to use a wet and dry vacuum cleaner to suck out the food. DO NOT attempt
to hose food parts from fins. Caution : The fins are very sharp. Take extra care when cleaning this area. DO NOT bend the fins over as this will restrict the airflow and degrade cabinet performance.

Trays, Shelves and Air Grills. Stainless trays and nickel racks should be cleaned with hot soapy water. DO NOT use abrasive pads or cleaners as they may damage surfaces.

CONDENSOR CLEANING
Clean your condensor monthly. This will provide better performance, lower power consumption and will increase the longevity of your unit.
Brush (hand brush of vacuum cleaner brush) dust from the exterior of the condensor
Ensure you run the brush in the same direction as the fins to avoid damaging or bending the fins.
VENTILATION
Ensure condensor unit has adequate ventilation
It's important to ensure the condensor fan is drawing cool air in and hot air is able to escape.
Air IN must be separated from air OUT